Norwalk's Tough loss to McMahon in Double Overtime in Playoffs
On November 5,2020 Norwalk's first round of playoffs were held against rival school, Brien McMahon. As some may know, all of Brien McMahon's students and staff had to quarantine for 2 weeks which had led to the cancellation of games starting on October 18. McMahon Field Hockey's record before having to quarantine was 0-4 and is now only 1-4 with a win over Norwalk. While Norwalk's record was 4-5. Norwalk has not been defeated by McMahon for over a decade.
Starting the First Quarter of this game, Norwalk's Gemma Warde scored in a penalty corner in the first few minutes of the game. Norwalk's goalie, Claire McKinnon had 3 saves not allowing McMahon to score on her. As some may know, all field hockey players play both defense and offense on the field. Great defense and offense by Grace L'Archevesque, keeping the ball on her stick and sprinting on both sides of the field. All through out the 2nd Quarter, neither Norwalk or McMahon scored. Instead, the Lady Bears had 3 penalty corners with no goals and the Senators had 1. Great defense and offense by both teams and from both Goalies, Claire McKinnon and McMahon's, Toni Horton.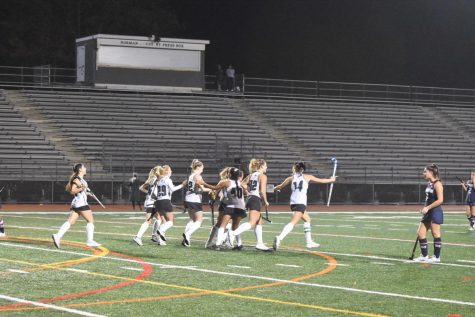 Third quarter of this playoff game, Norwalk had 2 penalty corners and 2 shots on goal, unfortunately, Norwalk couldn't score. McMahon also had 2 shots on goal in the first 5 minutes of the quarter but Norwalk's Claire McKinnon cleared them out. With 10 minutes left in the 3rd quarter, McMahon started to pick it up. At the 8 minute mark, McMahon's sophomore Jade Marin scored through McKinnon. This put up their first goal on the score board. Around the beginning of the 4th Quarter, Norwalk started to hustle and try to redeem themselves and aim to get another goal. Norwalk earned 2 penalty corners sadly, without scoring. As the 4th quarter came to an end, the score was 1-1, meaning the girls then had to go into overtime
Coach Seaburg had put in 7 players of his choice for overtime: Lia L'Archevesque, Briana Muro, Jana Calderon, Sara Spielman, Gemma Warde, Grace L'Archevesque and Claire McKinnon in Goal. For the first overtime, neither team scored. Both teams were desperate to score and finish the game while both having great offense and defense. Overtime came to end leaving both teams with no new goals which then led them into double overtime. At this time, the Bears and Senators knew one of them had to score. Lia L'Archevesque and Grace L'Archevesque had significant hustle. With already running up and down the field for an hour, Grace L'Archevesque proceeded to sprint and try to give her sister a chance to score. McMahon's, Sandra Szymanski scored the winning goal in the second overtime with 6 minutes left making McMahon win 2-1.