Where are they now?- Kristy Mastropietro
The Best Journeys Take You Back Home.
Kristy Mastropietro, is a Norwalk High School Alumni who took part in the NHS Field Hockey team and Softball team.
Mastropietro, who is currently a teacher  at Norwalk High School also coaches JV Field Hockey, as well as running the Norwalk Youth Field Hockey Program. Kristy graduated from NHS in 2009 and then went off to attend Keene State College, where she also continued to play Field Hockey for 2 years due to an injury. During her years in high school, Kristy was an intelligent student. She played Varsity Field Hockey under Coach Seaburg for 3 years and Softball for 2 years becoming captain for both sports her senior year. Mastropietro was a two-time All-Conference and All-Area field hockey player and was awarded All-Conference Honorable Mention for softball.
Kristy mentions: ¨One specific game that stands out to me was finally beating Greenwich in overtime. I remember the last play as the ball was hit up to my forward Despina (she also works at NHS) I remember the excitement of defeating a team they felt was unstoppable at the time.¨ When Mastropietro was asked ¨Why did you decide to coach Field Hockey instead of Softball¨, she answered with ¨I chose to coach field hockey because I was more passionate about it. The field hockey program at NHS is known for its tight family  bond, and I wanted to continue to be a part of that family. I absolutely love playing both sports and still play slow pitch softball with my firehouse, but the level of bonding within the field hockey program couldn't be matched¨. Although, Mastropietro couldn´t finish her field hockey career in college due to injuries, she found her way back to coaching the sport she was most passionate about, in the place where it all started.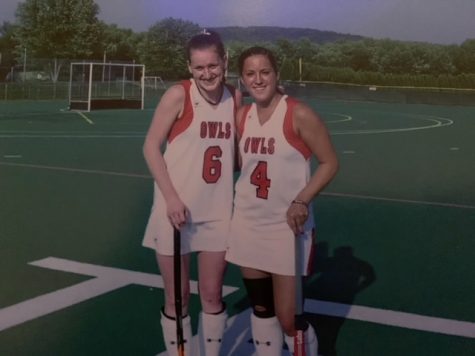 Mastropietro, who has now been an NHS alumni for 11 years, still keeps in touch with one of her teammates who also turns out to be her best friend.¨I met my best friend playing field hockey. We are extremely close, we run the Norwalk Youth Field Hockey League together. Together, we gathered many of our old teammates to help coach our Youth League.¨ In comparison to her team vs the teams she is coaching now, Coach M says ¨When we played we started in High School. There were no youth leagues and no training camps. We also played on grass as freshman. The teams now are incredible! The level of skill is outstanding and I´m proud to be a part of that growth¨
Today, Kristy Matropietro, also known as Coach M, has now been coaching JV Field Hockey at NHS for two years and has built strong bonds with each and every athlete on her team. She coaches under Seaburg who was her coach during her high school years. Every practice, the girls would be impressed by Coach M´s amazing stick skills and being able to drive the ball into goal. Although COVID-19 hit many hard this year, Coach M put everyone's safety first and made sure everyone was following proper protocols.