Protecting the Legacy of Norwalk High – Billy Neschis
Catching up with the former two-time captain.
Being a captain for a school sport is a special privilege that not many athletes can obtain. Most captains usually have that title for only their senior year but this former athlete had one more. This athlete is William (Billy) Neschis and he played for the tennis team.
He spent his junior year as the lone captain and co-captains with Pablo Quiceno as a senior. His tenure on the team lasted from 2016-2018 while not playing as a freshman in 2015. He is now enjoying life at Keene State College. Although he has chosen to not continue pursuing his tennis career he is on the college's club ultimate frisbee and volleyball teams. "I enjoy team sports. Volleyball is a fun sport and requires a lot of team communication [and] you have to rely on your teammates more so than other sports. And ultimate frisbee is just fun to do. It is a lot of exercise and does have a skill gap, but once you make it over that – it is a ton of fun. There is nothing like running and tracking a disc through the air – it is like tracking a fly ball", William Neschis ('18) said.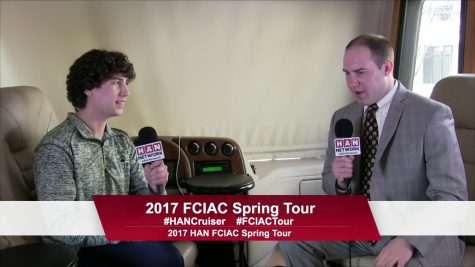 Billy was a big contribution to the team in 2016, helping them qualify for states for the first time in recent years. He played as doubles two with Micha Cardemone but unfortunately did not make it far. However, as a junior in 2017 he was the only captain and made the jump to doubles one and played with future co-captain Pablo Quiceno. "I was thrilled when I first found out I was captain. It was a little surprising since I was a junior at the time and not a lot of juniors get captain. And in 2017 there were a lot of new freshmen that joined, making us a freshman heavy team, and I had to lead as an example, and even introduce the sport to some," Neschis stated. In the next year, he served his final season as a senior captain playing with the other captain, Pablo, as doubles one. When asked if he misses playing for Norwalk High, Neschis replied, "I miss playing tennis competitively and for a team. Unfortunately, where I go to school there is no tennis team, so I only play very casually mostly with people who have never played before."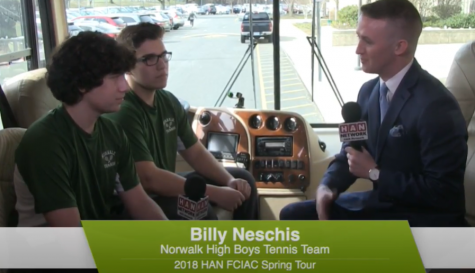 Being on the team for three years and having the role as captain for two is something that many high school athletes dream of. Unfortunately the overwhelming majority of them do not get to live that dream. But this student-athlete, William Neschis, did live through it, and it is a memory that he will always treasure and never forget. He continues on in college, representing the name of Norwalk High to the fullest and continuing the legacy of the former captains.
About the Contributor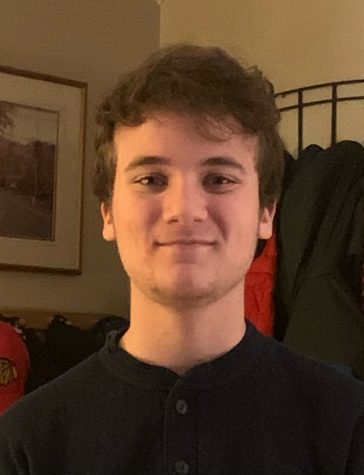 Timothy Neschis, BCSN Key Editor
My name is Timothy Neschis and I am a key editor for BCSN. I am a member of the Norwalk High tennis team and am an avid sports fan. I enjoy writing about...