The Thrilling Teriyaki Chicken & Broccoli Bowl
A review on one of Panera's many warm bowls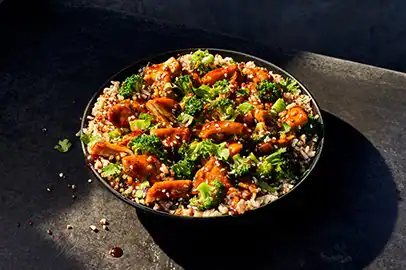 Panera Bread has a menu that consists of many different things, varying from their sandwiches and salads to soups and bakery items. With one in just about every city and town in Connecticut and beyond, it's no joke that this cafe-restaurant is taken well and enjoyed by just about everyone. Now that it's that time of year where autumn is finally back in season, Panera has some items to set the mood, one being their Warm Bowls will warm you up from that fall weather chill.
Though their Warm Bowls are available all throughout the year, it seemed right to give one of them a try since most looked pretty appealing and were readily available, which would make the availability score a 4/4 most likely for you too. I ordered their Teriyaki Chicken & Broccoli Bowl, which was a somewhat reasonable price of $12.49. The price seemed like 3/4, so why not try it?
As most Panera items are, you could customize your toppings, which were the sesame seeds and cilantro. I decided to go with the regular option for both the toppings. The rest of the bowl consisted of brown rice, quinoa, teriyaki chicken said to be in a "soy sauce-based teriyaki glaze", and of course the two toppings. When I had recieved it, it came in what looked kind of like one of those "carboard, but not really that stereotypical cardboard" bowls, which was a nice touch. The appearance overall was a 4/4 for me.
The chicken had a lot of flavor, along with the cilantro packing a punch. The broccoli was a little bland, but it was easy to forget about that. I was expecting some more sesame seeds since I had hit the 'regular' option for toppings, but honestly it was just fine with that many sesame seeds. There was a lot of rice and quinoa compared to everything else in the bowl, which kind of meant you have make sure you get an equal forkful of everything.  But once you did get that equal forkful, it was delicious and made the bowl worthwhile. Adding all of the taste factors together, it' be a 3/4 for me.
Overall, the Teriyaki Chicken & Broccoli Bowl was a total 14/16 and seems like an item if you want a quick or easy lunch or dinner. I would definitely give it a go again!