Pretty Perfect
Review of the 80's Teen Classic; Pretty In Pink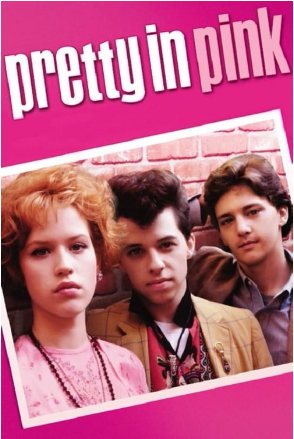 Teen movies have become a staple in cinema over the course of a couple decades. Some of the most popular ones are Clueless and 10 Things I Hate About You. Though many 90s and 2000s teen movies are considered classics now, the 80s was where it all started. The 80s is when teens became a demographic that people, like movie makers, wanted to cater to.
John Hughes became a prominent figure in this teen movie craze. His first teen movie was back in 1984 when he wrote and directed Sixteen Candles. He would then go on to become a part of (writing, producing, and/or directing) movies like Ferris Bueller's Day Off, The Breakfast Club, and even Home Alone. Molly Ringwald among other actors was famous for being in many popular teen movies including John Hughes's first teen movie Sixteen Candles and eventually Pretty in Pink. These movies connected with teens and from then they took off and became a genre of their own.
Pretty in Pink stars Molly Ringwald as Andie, a senior in high school, who lives on the poorer side of town. When Blane a 'richie' asks Andie out on a date things get a bit complicated. As Andie's best friend Duckie has a crush on her, and both Blane and Andie have to deal with the backlash of their mixed-class relationship.
Despite Sixteen Candles being John Hughes' launch into the teen movie industry, I didn't really like it. Molly Ringwald was the only highlight of the film, her acting was wonderful, and that ending scene was sweet, but the jokes weren't really funny, and I didn't find the side characters enjoyable to watch. Let's just say Sixteen Candles wasn't my cup of tea. So when I took one look at Pretty in Pink I thought it would be just as bad as Sixteen Candles. Oh, I couldn't have been more wrong.
"
What's this? We don't have a candy machine in the boy's room!"
— Duckie Dale
It may have some stereotypical rom-com elements but it is executed so lovingly.
For example, there is a love triangle between the three main characters, normally there's always one love interest that is clearly a terrible person and another one who's the obvious choice. However, in this love triangle, I liked both Blane and Duckie. They are very different characters who have their flaws but love regardless, Blane the shy rich guy who's susceptible to peer pressure, and Duckie the long-time funny friend, who's insecure. I knew that Andie was going to have to choose one in the end, but both were just so sweet that it was hard to root for just one of them.
Andie's relationship with her father was very endearing. It's only the two of them and Andie has to be more of an adult than her father since he's unemployed and still hung up on Andie's mom. But I think what makes him a good character is that he cares about Andie, shows interest in her love life, tries to make her breakfast, etc. Iona, Andie's boss played by Annie Potts was also a joy to watch on screen with her sarcastic, loving attitude and eccentric very 80s style. Jon Cryer as Duckie adds the perfect amount of humor with his many improvised lines and awkwardness. At many points, I laughed out loud. Molly Ringwald's beautiful performance as Andie is just the pretty pink bow on top of this truly magnificent movie.
The casting and acting of every character, especially the side characters, help to elevate this simple teen movie into a classic worth watching and rewatching.