Why Remote Learning Is Ineffective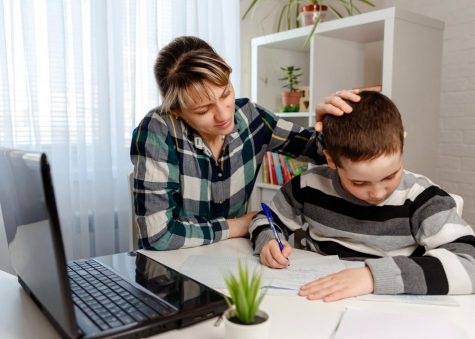 The rigorous hours of remote learning can be the number one source of students' social anxiety, depression, and lack of motivation, resulting in damage to one's physical and mental health.
Remote learning has brought struggles to students of all ages, including those of elementary and middle school levels. The drastic change of routine and structure reported in student's feeling more stressed and anxious due directly to the overwhelming change in online learning itself. 
Diana DiIorio, principal of Nichols Elementary school said, "I see a drastic change in my students grades and work; many students have lost motivation, although a few students are flourishing from online classes, but I see more kids failing than passing." 
The blue light radiation from computer screens and cell phones is at an all time high for all students participating in remote learning, consequently not only leaving traces of anxiety and other mental health struggles, but leading to other complicated physical struggles.
Andrew Hernandez, a sophomore student at Norwalk High School, indicates, "I find online school stressful because you are constantly staring at a screen all day, I get nervous sometimes turning my camera on in front of the whole class. After school is over, I am still on my computer for 3 hours minimum, because of homework and projects. I get twice as many headaches than I did last year." 
Harvard researchers experimented comparing the effects of exposure to blue light to exposure to green light of brightness. They found out that the blue light suppresses melatonin for twice as long as the green light which shifts circadian rhythms by twice as much. The blue light that students are consuming for more than two thirds of their day is hurting their sleep schedule. Additionally, sleep issues may contribute to the causation of many health concerns like cancer, diabetes, heart disease, and obesity.
Diana DiIorio expresses that, "Students' brains can't take all the blue light rays. It causes your brain to fog up and alters your decisions, judgement and energy. Overall, too many blue light rays to students' brains is extremely dangerous."
Not only does online school affect your physical body and mental health, but it also affects students' social abilities. 
Hanna Merchan, a student at AITE states, "Ever since online school started, I got less motivated, and it made me procrastinate more; I hate not interacting with people. We are still growing and I think interacting with people is so important, and being online makes us more socially awkward. Since I'm graduating soon, I'm nervous about the real world and talking to people formally, because of all the little conversations and interactions I dont have anymore, like talking to classmates, and small talk with teachers, meeting new people, and asking questions."
Diana DiIorio adds that, "Students need more social and emotional learning strategies due to the reduced interaction time with peers. There are much less hands on activities to keep students motivated and engaged, which is definitely one of the negative points of remote learning" 
Online school took a big toll on the average students' mental and physical health, as well as their social and emotional communicative abilities, resulting in an overall negative opinion on remote learning from both students and administrators.