Whats wrong with Antonio Brown? How does CTE affect football players?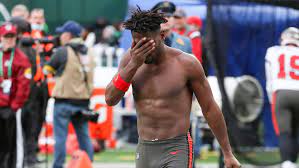 On January second football watchers around the world witnessed something that rarely ever happens. Antonio Brown, a 5'10 wide receiver who played for the Buccaneers, threw down his pads on the sideline in the middle of a game versus the Jets. (As seen in photo on the left.) Antonio Brown then skipped away waving his hands at fans and proceeded to jog into the locker room. As punishment Brown was fired from the Bucs as well as lost out on many incentives, 3 of which were easily obtainable and over 300 thousand dollars each.
After leaving the game, Antonio Brown went on to post on social media with captions such as, "big MAD (making a difference) thanks for the opportunity." He also decided to post on twitter as well with a caption as, "Super Gremlin." But with every story, there are two sides. Antonio Brown claimed to have an ankle injury and furthermore said that the outburst was because of the pain, not a mental health issue. Brown claimed to tell his coach, and had receipts of the conversation from Dec 30th about the status of his ankle, 3 days before the game. Lastly Antonio Brown claimed that the Bucs head coach, Bruce Arians, ordered Brown to get back onto the field even with knowledge of the athlete's ankle. Arians, instead of calling for medical attention, allegedly claimed to run his finger across his throat and yell, "you're done" when confronting Brown to get back on the field. Although Antonio Brown's outburst of emotions caused him a lot of trouble, there may be some logical reasoning behind it.
CTE, also known as Chronic traumatic encephalopathy. The term is used to describe brain degeneration likely caused by repeated head traumas. CTE is a diagnosis made only at autopsy by studying sections of the brain. Being that CTE can only be diagnosed until the person dies, Brown claims "He doesn't want to think too much about whether he has CTE or not." The symptoms of CTE include memory loss, confusion, impaired judgment, impulse control problems, aggression, depression, anxiety, and, eventually, progressive dementia. These symptoms often begin years or even decades after the last brain trauma or end of active athletic involvement. In conclusion Antonio Brown has been released from the Bucs, missed out on some great incentives, and even stated "It probably wasn't necessary or professional." CTE is a serious issue which needs to be made more known in football, as shown can cause bad decisions and even end up taking someone's life away before it is fully lived.