Bears' Returning Sideline Staff: Back in Business
The football team continues to grow and advance into the fall of 2022 season.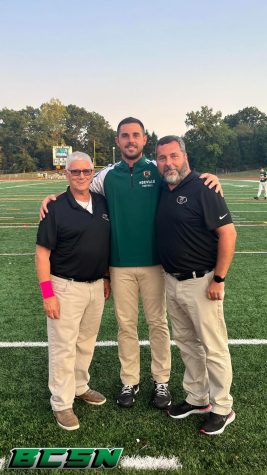 As the football team eagerly enters a new fall season, they're met with an exciting surprise.
Three familiar faces are taking charge of the Bears football team with goals set higher than any year prior. Co-Head coaches, Pete Tucci and Sean Ireland put their whistles back on proudly, as Tucci handed his to Ireland back in 2011.  Both coaches have been a part of the program since before they ever started their careers. Coach Ireland played for Tucci from 1992-1996 and exclaimed that his main plan is to continue to "keep the tradition of the football program alive" by digging up his former coaching techniques and adding in a few fresh ones to lead the team to the most success possible in the fall of 2022 season. It's no surprise that there was some true talent that left with the graduating class of 2022. Although, assistant coach Ryan Mitchell believes that "despite the surplus of less-experienced players, there is true potential in this years team." Our well-respected coach of the boys last year, Coach Pat Miller, left big shoes to fill but we're confident in the new coaching staff to "continue to be competitive with the cards we we're dealt," exclaims Mitchell. The pride that all three coaches exhibit for the program and school as a whole is palpable.

"
It feels good to be back!
— Sean Ireland
The boys prove time-and-time again that they can tackle any adversity that is thrown at them through the dedication and drive that they have brought to the football program as a unit. One player that has stood out to all three coaches through his field awareness and game IQ is Andrew Hernandez (Senior). His execution and ability to play both sides of the ball continuously keeps the opponents on their toes, day after day. Hernandez has played two outstanding games against Hamden and Fairfield Warde High School, where all coaches expressed how impressed they were with his ability to consistently make great plays on both the defensive end and as kicker. Hernandez is setting a prime example of what leadership looks like to a team full of underclassmen with passion and drive to work harder each day.
The trio of coaches jumped back on the coaching opportunity back in June without hesitation. Enlightened with the hard work and passion that the players exhibit, they are confident in the games to come. The Bears are ready for any challenge that comes their way, thanks to the help and support of the returning sideline staff.