Ready to Take the Lead: Meet Your 2022 Football Captains
Join us as we talk to Shawn Brown, Theo Mante, Ryan and Brendan Gilchrist about this season's expectations for the football team.
September 23, 2022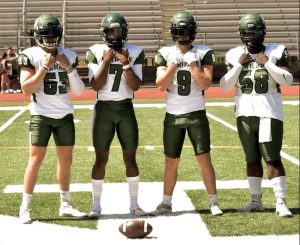 The Bears are back! Ready to take on this years season. Captains Brendan Gilchrist (#53), Shawn Brown (#7), Theo Mante (#58), and Ryan Gilchrist (#9) are looking to lead the team in the right direction this year. With their prior experience as captains for their freshmen football team, they hope to motivate and lead the underclassmen to perform their best for this years Varsity team.
"
The underclassmen look up to me, the expect better of me, I can't goof off, I need to be a good example for them."
— Ryan Gilchrist
"
It's a testament to the years that I put in the work."
— Theo Mante
The captains have high expectations for this season, and want to inspire and push the underclassmen in the right direction. Ryan and Brendan Gilchrist are positioned as offensive line and defensive linemen as well as Theo Mante. Brendan averaged 6.7 tackles per game and 11 sacks in total. Shawn Brown is our star quarter back this year. He's adapting and is a leading example while also taking the responsibility and knowledge of how the offense runs. Shawn is well experienced with this offense layout though this is only his second year of having the starting QB spot. He rushed for an average of 22.5 yards per game last season as well as a total of 10 touchdown passes last year, and is looking to improve those numbers this year. He is hoping to assist his teammates in touchdowns and overall help them progress this season. Shawn is very versatile with his passing and running game, and always keeps his opponents guessing. With all the practice and team bonding this years football team has done during the off season, they are ready to work together and get the crowd roaring for this years football games.
https://www.maxpreps.com/ct/norwalk/norwalk-bears/football/