The Team That Goes Way Back
The bonds of a team started before high school
Being a part of a smaller team in a school sport means that you get to know each other and build team chemistry. Over the course of your high school sports career you may get to know the team well and become friends with most. However, there is one team that does not have to go through this process, as nearly everyone goes back years. The team, is the Boys Cross Country team. 
Nearly every single senior has known each other dating back to elementary or middle school. This is very rare for a team to have, because the chemistry for this team is not building over the course of the season as it has been established for years. "I met a decent number of the seniors in elementary and middle school while most of the underclassmen I met in high school," Kevin Chuba ('21) stated. This is the same story for fellow senior Dylan Consolati. ('21) He says, "I have been friends with most of the seniors since elementary school, and a lot of the juniors for a few years now as well." Both teammates also know the importance of having chemistry. Kevin Chuba said, "It is great to have that bond with the guys after knowing them for years now. It makes the team environment more of friends hanging out than strangers running together." Dylan said, "Being friends with my teammates is really important, as it makes the team atmosphere more fun and it provides a sense of togetherness."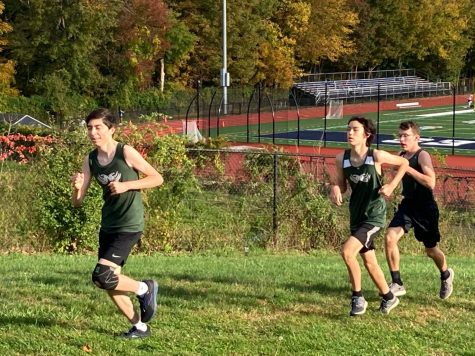 One of the most important parts of team sports is making sure that everyone is playing at their best level. It is just as important that everyone is having fun. Having friends as teammates can help out with both of those vital aspects of a game. "Having friends on the team makes it a lot easier to show up everyday knowing that even if practice is hard that day, you will still have people to joke around with before, during, and after," Chuba said. Consolati mentioned that, "It is always motivating when friends are on the team, as we push each other to improve individually and as a group." 
Having a team filled with your friends is an experience that many will not ever have, but these soon to be graduates will always remember. This year's cross country season may be different due to developments outside of anyone's control, but it will sure be a memorable one for the seniors.