Athlete Commitment Spotlight- Rachel Miller
A series by B.C.S.N Creator Samantha Philipp, on student athletes who have committed to play at the collegiate level.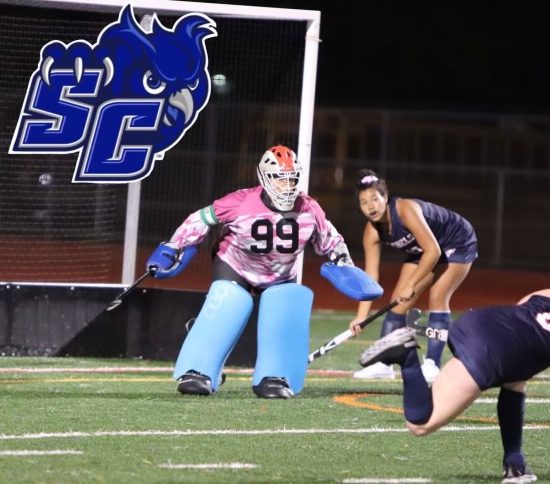 Committing to play a sport at the collegiate level is a huge accomplishment that deserves to be recognized.  To showcase this achievement, B.C.S.N Creator Samantha Philipp, sits down with the student athletes at Norwalk High who have committed to hear their story.
Three-sport athlete Rachel Miller has found her new home for the next four years!  Rachel Miller, a senior at Norwalk High School, is a CIAC Scholar Athlete and the starting goalie for Norwalk High's Field Hockey team!  She will be attending Division 2 Southern Connecticut State University (SCSU) for the next four years!
Q: How long have you been playing field hockey?
"I have been playing field hockey since my freshman year of high school. I wanted to play because my mom was the captain and goalie of her field hockey team at Westhill in 1988. And I guess history likes to repeat itself because here I am." Rachel's mom has been a crucial part in her journey as a field hockey player and just a person in general, with her saying "I look up to my mom and always have. She is the closest thing to perfect and I have always wanted to be just like her. I would be happy if I could be ½ the person she is."
Q:  Why did you choose Southern?
"I chose Southern Connecticut State University because they have an amazing education program," Rachel says, "I want to go into teaching one day to become a high school social studies teacher."  While school aways comes first for Rachel, she also picked SCSU for their field hockey team, describing it as "highly competitive at the D2 level in the NE10 league." Those two reasons made SCSU feel perfect for Rachel, as well as "the good pizza in New Haven always is a plus."
Q: What was the recruitment process like for you?
"The recruitment process made me uncertain, anxious, and relieved at the same time. Some days, I never thought I'd end up playing a sport in college while others I was certain I was going to play field hockey, basketball, and lacrosse."  Rachel's recruitment process started later than most with her stating, "The end of my junior year was when I decided that my love for field hockey outweighed the other sports I play and I wanted to get serious about it." With head coach of the Norwalk Field Hockey Team, Kyle Seaburgs advice, Rachel began her recruitment journey.  "During the summer, I went to five college recruiting camps, several goalie camps and clinics, and goalie training sessions with McMahon's goalie coach Sam." Rachel finally narrowed down her choices to SCSU and Westconn yet says "I was so torn, I remember I kept thinking to myself, "What if I make the wrong choice?" After asking the opinions of my trusted coaches, teachers, and of course my parents, I realized that there is no such thing as a wrong choice. So, I made my pros and cons list and went to my official visits to both schools, with SCSU feeling like the better fit for me."
"
"I was so torn, I remember I kept thinking to myself, "What if I make the wrong choice?" After asking the opinions of my trusted coaches, teachers, and of course my parents, I realized that there is no such thing as a wrong choice.
— Rachel Miller
Q: How did Norwalk sports prepare you for the next level?
"Norwalk did prepare me well. Being an upperclassman in my three sports gave me a leadership role that I believe will help keep me disciplined when I go to college.  Norwalk field hockey is such a family oriented team and I say it all the time, "those girls are my family." Rachel made sure to search for a college program that would emulate those values.  Another key value that Norwalk sports has given her is being a captain, describing it as  "more than just getting to wear the cool band during games and basketball taught me that. Norwalk girls basketball definitely has tested my mental toughness numerous times. It has taught me that respect isn't always given but it has to be earned. For field hockey, I could do a fancy save and everyone would be like wow she's good. In basketball, although the girls were all different I learned that sometimes you have to be a leader in different ways. I did this by always doing what I need to do in school and trying my hardest in practice. Norwalk had taught me that being a good teammate and leader has nothing to do with the sport itself but with your own character."
Q: Do you have any advice for athletes looking to compete at the next level? 
"My advice is to play in college because you love the sport. If you are not doing something that you love, your practices will feel dragged on and make your whole college experience seem stressed. Being such a big commitment, you should enjoy yourself doing it."  "If you do what you love, you'll never work a day in your life." -Marc Anthony
(Fun fact: Rachel's mom won the 1988 CIAC Scholar Athlete Award at Westhill High School and Rachel won the 2023 CIAC Scholar Athlete Award at Norwalk High School.)