Lady Bears Wrapping up the Season
Norwalk Girls Varsity Basketball Finish up the Season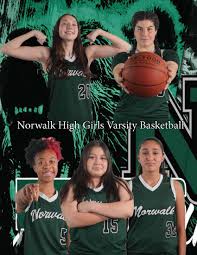 In the beginning of the season we talked to the lady bears. They expressed their goals and feelings going into the season. They talked about building a strong team bond and building their chemistry. They also talked about he room for improvement. At the mid season point the girls expressed the goals being reached. They said how they are building a strong bond which we saw was working well. They improved their skills and kept going into each game harder and harder. Their effort levels were insane! They never gave up no matter the outcome of each game. These lady bears were hungry! As the girls wrap up the season, we can recap their goals and see that their team bond was hot! They had chemistry that can win games by its self. The girls are finishing up their season with 3 games left. With a record of 7 wins and 10 losses, the girls are still striving.

We got the chance to talk to team captain Tiffany Martinez. "We improved our communication skills on the court which hurt us in the beginning of the season," Tiffany said. She expressed how the team chemistry was a big factor for the lady bears. "

"

We built a good relationship throughout the season and it helped us trust each other and be honest with one another"

— Tiffany Martinez

," Tiffany expressed. "As we wrap up the season I feel like we could have done better in the beginning of the season if we built a strong bond from the start." As Tiffany says, the girls are working together and are still striving.

In the 2019 season, Norwalk Girls Basketball won the Class LL championship. As the 2023 season wraps up, the girls may have a chance to repeat history. With 3 games left, if the girls get another win they may qualify. Although in 2019 Norwalk had an undefeated season, states is still possible. The girls are still striving and working together hard. If they keep communicating and getting better together they will definitely seek success.