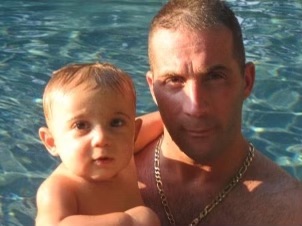 More Than Just a Number
January 26, 2023
How can a number signify so much for someone's life?
The number 33 plays a big role in my life.  I wear it around my neck and I wear on the front and back of my jersey in any sport I play.  When I was 3 years old my father passed away very suddenly of a heart attack.  I've grown up knowing life is short and that anything can change in the blink of an eye.  At the drop of a hat you could be living a completely different life than you were the day before.  My dad was the rock in my family.  Being with me all the time and tricking me telling me he didn't get my doughnut but he was just hiding it. "Neneeeeee," I'd run up and gave my dad a big hug. "Did you get my doughnut?" "Ah, no I forgot it, I'm sorry," and he'd pull the bag out from behind his back and give it to me as I smiled and laughed. "You always do that."  He was my best friend.
"
Dream as if you'll live forever. Live as if you'll die today."
— James Dean
The reason 33 is so big for me is because it was his favorite number.  My family are huge Cowboys fans and back in the day they had this running back by the name of Tony Dorsett who happened to wear number 33.  My dad loved Dorsett and the way he played.  He was shifty and at times he'd run with a fire in him and he'd run you right over if you were in his path to the end zone.  Ever since my dad passed my brother, my sister and I have all worn 33 throughout our years playing sports.  I've always been told when life throws you curveballs keep fouling them off, the right pitch will come but when it does be prepared to run the bases.
I miss you dad and always will.  I hope Jess, Marco and I are all putting a smile on your face up there.  I hope I'm making you as proud as can be.  Love you forever and always.
–  Nene